Transform your contract terms into data points that allow you to drive action
Accessible Data
Ditch the PDFs and Word Docs. Make your life easier with digital contracts that help you create efficient data flows into other modules.
Streamlined Process
Remove the back and forth between Carrier and Shipper. Digitize the entire experience to create efficiencies for everyone involved.
Simple Reporting
Say goodbye to data discrepancies. See your performance of the commercial terms all in one place with easy-to-understand reporting.
Contract Digitization provides the foundation for performance monitoring
Digital Contract Builder
Carriers can choose to begin the commercial contracting process directly in NYSHEX. Now, Carriers and Shippers can easily agree on custom commercial terms such as volume, rates, exceptions, free time, and more directly within the platform. Starting the process digitally allows for a seamless flow of data into the Configurable Rules Engine.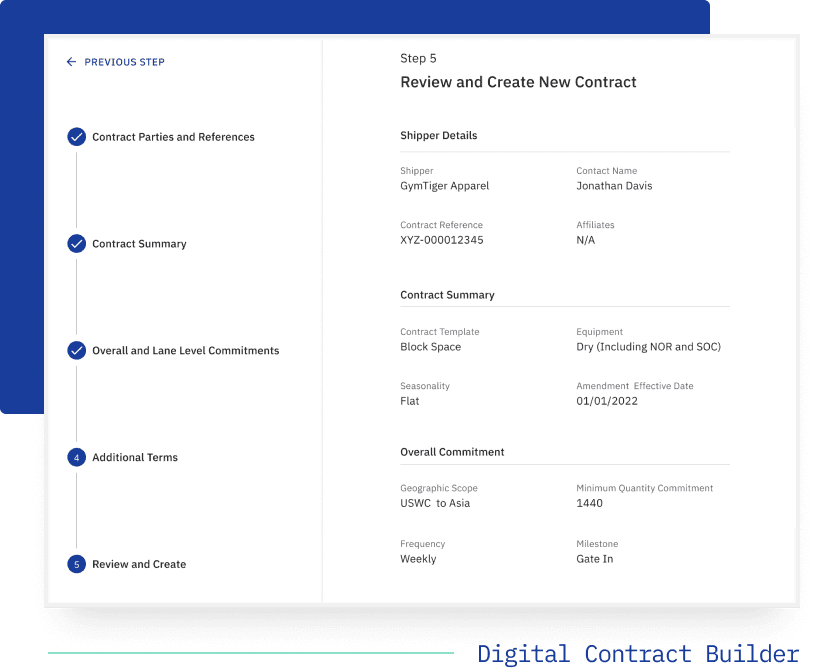 Configurable Rules Engine
Rely on the NYSHEX Configurable Rules Engine for reconciliation of the commercial terms of the contract with actual performance data. Finally, you can see your overall contract performance as well as proactively identify exceptions all in one tool. Additionally, NYSHEX allows for agreed-upon performance exclusions such as force majeure, port omits, etc. for total customization.